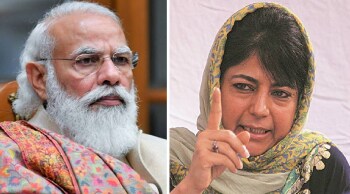 BJPFormer Jammu and Kashmir Chief Minister and PDP chief Mehbooba Mufti has alleged that the national flag is being used only for politics. Also the Prime Minister Narendra Modi And he also challenged the BJP that if they have the guts, they should hoist the national flag in China-occupied Ladakh. She was speaking at a program organized on the occasion of the party's foundation day in Srinagar on Thursday.
National flag is being used by BJP only for politics. Citizens are being threatened to hoist the national flag on their houses in the name of Amrit Mahotsav of freedom. Is this the new Kashmir? This question has been raised by Mehbooba Mufti. He also challenged the Prime Minister Narendra Modi and the BJP to hoist the tricolor on the land illegally occupied by China if they have the guts.
Also Read – Devendra Fadnavis criticizes after Raut's power-taking statement "To talk about them is to lose steam"
"BJP has disturbed peace in Kashmir. I just want to tell Prime Minister Modi that if you want to make India a world guru, you have to establish peace in Jammu and Kashmir first. India's path to becoming a world leader goes through Kashmir", she said.
Unless Indo-Pak relations improve. Till then Kashmir will continue to lose. The old invaders who invaded Kashmir destroyed temples to build mosques here and you are destroying mosques to build temples. What is the difference between them and you?", he also raised the question.