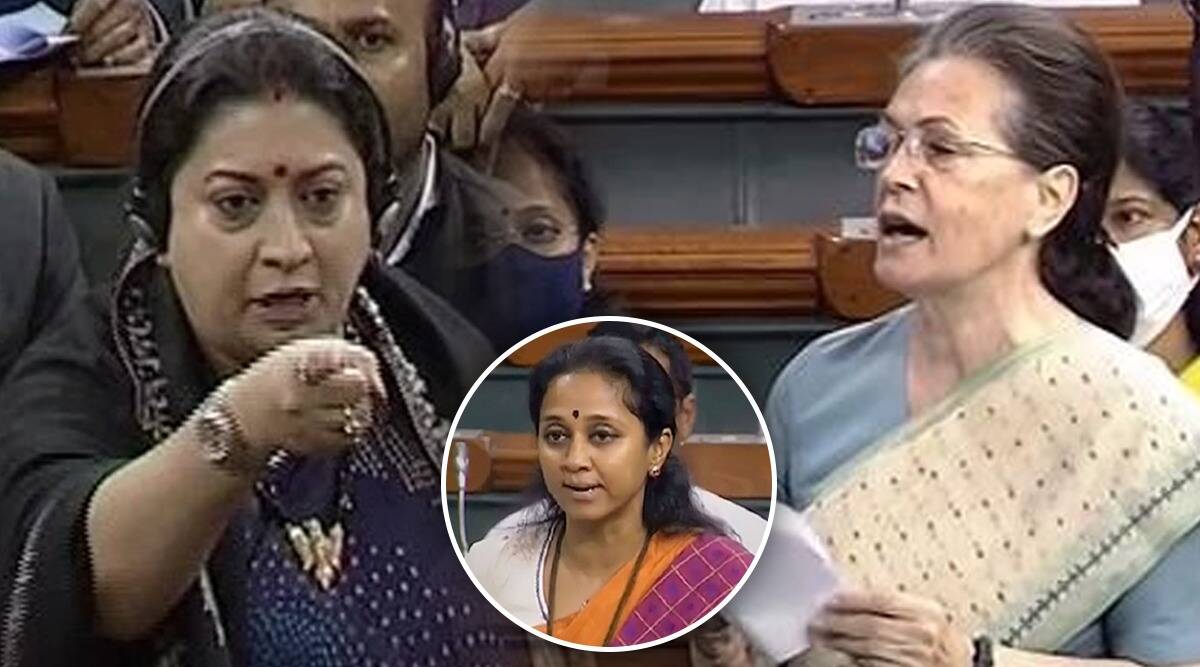 After senior Congress leader Adhir Ranjan Chaudhary's offensive statement about President Draupadi Murmu, there was a big uproar in the Parliament session. After this statement BJPstrongly attacked the Congress. Meanwhile, a verbal clash broke out between BJP MP Smriti Irani and Congress President Sonia Gandhi. BJP leaders have claimed that Sonia Gandhi refused to talk to Smriti Irani saying 'don't talk to me'. However, NCP MP Supriya Sule has tweeted about what exactly happened in the hall.
Tweets by Supriya Sule
An unfortunate scene was witnessed in the Lok Sabha. After the adjournment of the House, loud announcements were being made by the ruling party. I was shocked to hear these slogans against Sonia Gandhi. We all should take responsibility for our home (country). Supriya Sule has tweeted that we have to try to maintain the dignity of the country.
What exactly happened?
According to the information received, during the session, senior Congress leader Adhir Ranjan Choudhary referred to President Draupadi Murmu as the 'nation's wife'. After Chaudhary's controversial statement, there was a lot of commotion in the Parliament. Union Minister Smriti Irani demanded that Congress President Sonia Gandhi apologize. This demand was followed by a verbal clash between Sonia Gandhi and Smriti Irani. After that the work of the House was adjourned. After the adjournment, BJP MPs were making slogans demanding Sonia Gandhi's resignation.
Also Read- Smriti Irani Defamation Case: Delete tweet within 24 hours, else.., HC reprimands Congress leaders
Chaudhary's request letter to the Speaker
Adhir Ranjan Chaudhary has issued a statement in this regard today. 'I cannot even think of insulting the President. It was just a mistake. If the President is offended, I will meet him personally and apologise. They can hang me if they want. I am ready to be punished but why is Sonia Gandhi being dragged into all this? He also asked this question. Choudhary has requested Speaker Om Birla to give him an opportunity to explain in the House. He has written a letter to the Speaker regarding this.
Also Read- 'Suspended MPs eat chicken tandoori in front of Mahatma Gandhi's statue'; BJP's allegation
He has already apologised, explained Sonia Gandhi
Sonia Gandhi was asked by the media whether she would ask Adhir Ranjan to apologize after the uproar in the Lok Sabha. On this, Sonia Gandhi said that she has already apologised. Meanwhile, Sonia Gandhi called a meeting of senior leaders at the Congress Parliamentary Party office to discuss the matter. Party leaders Mallikarjun Kharge and Adhir Ranjan Chaudhary were also present in this.
House adjourned till Monday
Repercussions of yesterday's confusion were seen even today. The Lok Sabha was adjourned till 12 noon due to commotion in the House at the beginning of the work but after resuming the work there was chaos in the House. As a result, the Speaker of the Lok Sabha has adjourned the proceedings of the House till Monday.