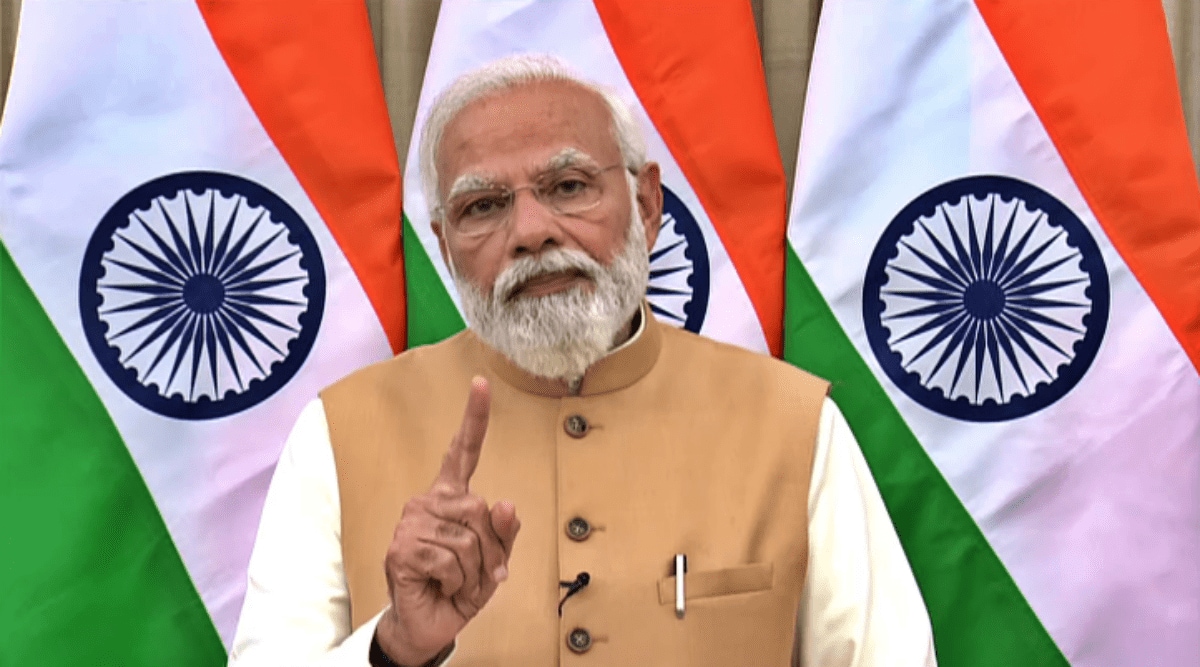 Prime Minister Narendra Modi has appealed to the countrymen to participate in the Har Ghar Tricolor Abhiyan through the 91st episode of 'Mann Ki Baat'. Today's episode of 'Mann Ki Baat' is special. Because this year we are going to celebrate India's 75th Independence Day. We are all about to witness a very wonderful and historic moment. Modi expressed the feeling that God has given us this great fortune.
Paying tributes to Shaheed Udyaam Singh, the Prime Minister said, "Today we all pay homage to the martyrdom of Shaheed Udyaam Singh." I pay my humble respect to all other great revolutionaries who sacrificed their lives for the country.
Amrit festival is a form of mass movement
I am happy to see that the Amrit Mahotsav of Freedom has taken the form of a mass movement. People from all walks of life and from every section of the society are participating in various programs related to this festival. In order to make everyone aware of the contribution of Indian Railways in the freedom struggle, an initiative called Azadi Railway and Railway Station is being implemented by the Central Government. Gomo Junction of Jharkhand has now been renamed as Netaji Subhash Chandra Bose Junction Gomo. At this station, Netaji Subhash managed to evade the British officers by boarding the Kalka Mail. 75 such railway stations have been identified in 24 states across the country. These 75 stations have been beautifully decorated and many kinds of programs are being organized in them.
Congratulations to the students who have achieved success in the 10th and 12th exams
A few days ago, the results of 10th and 12th have also been declared across the country. Modi has congratulated all those students. Those who have achieved success through their hard work and dedication. The past two years have been extremely challenging due to the pandemic. The courage and patience shown by the youth in this situation is highly commendable. Modi has wished them all for a bright future.
Big responsibility on you
The biggest message of all these events taking place in the Amrit Mahotsav of Independence is that we all countrymen should fulfill our duty with full devotion. Only then can we fulfill the dream of countless freedom fighters. India of their dreams can be built. That is why our next 25 years of Amritkal is a duty period for every countryman. Our brave soldiers have given us this responsibility and Pant Pradhan has expressed his determination to fulfill it.
Best wishes to PV Sindhu, Neeraj Chopra
Prime Minister Narendra Modi has congratulated PV Sindhu and Neeraj Chopra while appreciating the Indian athletes. Be it the school classroom or the playground, our youth today are making the country proud in every field. This month, PV Sindhu won her maiden Singapore Open title. Neeraj Chopra also won a silver medal for the country at the World Athletics Championships with his outstanding performance. Our athlete Suraj has done amazing in Greco-Roman competition. After a long gap of 32 years, he led India to a gold medal in wrestling in this tournament. Modi has praised the Indian sportspersons saying that the whole month has been an achievement for the sportspersons.
India is the leader in honey production
How important is honey in our traditional health science? Ayurveda texts describe honey as nectar. Honey not only gives taste but also health. Today there are so many opportunities in honey production that even educated youth are making their self-employment from it. Today, the country is becoming such a big honey producer due to the hard work of the youth. You will be happy to know that the export of honey from the country has also increased.
Hoist the tricolor at home between 13th and 15th August
A special campaign 'Har Ghar Tiranga' has been organized from 13th to 15th August as part of Amrit Mahotsav of Azadi. As part of this campaign, Prime Minister Narendra Modi has appealed to the countrymen to hoist the tricolor at home between August 13 and 15.