BJP president JP Nadda has newly formed the party's Parliamentary Board and Central Election Committee. Senior party leaders Shivraj Singh Chauhan and Nitin Gadkari have been excluded from this. JP Nadda will be the President of the Parliamentary Board and the Election Committee of the BJP. A special case is the Deputy Chief Minister of the state in the Election Committee Devendra Fadnavis These have been included. This has led to the discussion of Devendra Fadnavis' entry into national politics.
"Doors are still open, but…", Aditya Thackeray stipulated to rebel MLAs; Said "their game done"
Some new names have been included in BJP's parliamentary board. These include former Karnataka Chief Minister BS Yeddyurappa, Sudha Yadav, Iqbal Singh Lalpura, Sarbanand Sonewal, K Laxman and Satyanarayana Jatia.
Meanwhile, two new faces Bhupendra Yadav and Om Mathur have been given a chance in the election committee along with Devendra Fadnavis. Shahnawaz Hussain did not get a place in the election committee. On the other hand, Sonewal and Yeddyurappa have secured seats in both the seats.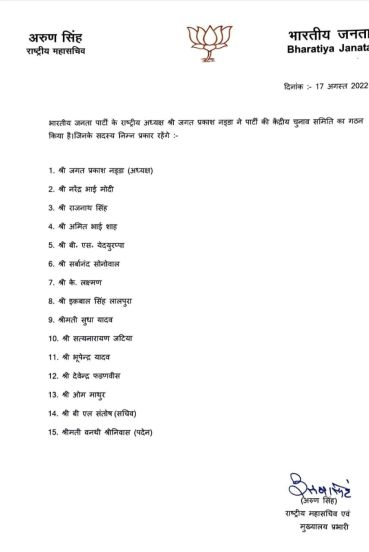 By giving opportunities to Yeddyurappa, Satyanarayana Jatia and K Laxman, BJP has shown how much it respects its veterans and their experience. BJP Sources say. Along with this, sources also say that BJP has emphasized on diversity while making changes. Sarbananda Sonewal has been given a chance from the North East, while L Laxman and BS Yeddyurappa are from the South.