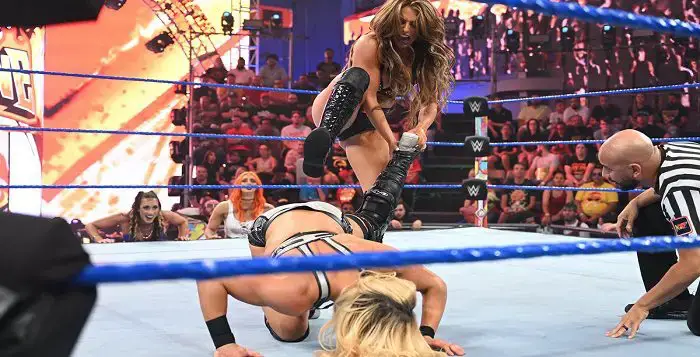 Please don't be bad. There are a variety of ways a wrestler can be injured and some of them can be rather serious. You never know when you are going to see someone get hurt in the blink of an eye and put on the shelf for a rather long time. Unfortunately there is little that can be done to stop this and it seems to have happened again to a star who has not been back from another injury.
NXT's Zoey Stark was scheduled to take part in the WWE Women's Tag Team Title tournament, teaming with Nikkita Lyons this week. However, that did not take care with both women being pulled and replaced by Toxic Attraction. According to the Bryan And Vinny Show, Stark was injured during her match against Mandy Rose on this week's NXT, resulting in her removal from the tournament. According to the Wrestling Observer newsletter, there was a fear that Stark had suffered a concussion, but this has NOT been confirmed. There is no word on how long Stark will be out of action.
Opinion: That is never good to hear and it is made even worse when Stark has not even been back for a month after her horrible knee injury. Stark is someone who has shown all of the potential in the world but these injuries keep getting in the way. Hopefully things are not as bad as they seem, as being on the shelf long term from another injury would be horrible to see.
What do you think of Stark? What should she do when she gets back to the ring? Let us know in the comments below.
You can find more from Thomas Hall at kbwrestlingreviews.com, or check out his- Amazon author page with 30 wrestling books.
Get the LATEST RUMORS! Click to sign up for the exclusive Wrestling Rumors daily newsletter.